My work as a therapist
In service to those who serve.
That includes parents, healthcare providers, veterans, teachers, spiritual practitioners. And those seeking to make a meaningful contribution.
---
Special Message to Health Care Providers Dealing with COVID-19
I am not new to working with health care providers at all levels of service.
My work with military veterans, trauma, burnout, and moral injury is particularly applicable in this unprecedented time in the lives of health care providers.  You can also find local resources and support through an organization I am honored to be part of:  Mindful Medicine.  Thank you for your service.
Personally and professionally, my skills have evolved in a few areas over the years. Please feel free to learn more about how you might like to focus our work together:
THE BIG PICTURE: Social workers are trained not only to address individual psychology, but to see people in the context of their environments.
MINDFULNESS: In-depth training, my own personal practice, and a long history of teaching mindfulness can help support you in developing these skills for yourself. A mindful approach assumes there is more right with you than there is wrong with you. You may benefit from mindfulness classes, which can be found here at

RiverRock Mindfulness

.

WORKING WITH PEOPLE MAKING A DIFFERENCE: Walking alongside those in various forms of service.

FINANCIAL THERAPY: Money is a doorway of discovery to our core values. Money can be a support to our lives rather than what runs our lives.

BUDDHISM: With 15 years of practice in Zen Buddhism, the wisdom of this tradition deeply informs our work together.
Whether in therapy or in mindfulness training, with practice, we become more awake and in touch with the vibrancy of our lives. Reconnecting with our deepest values, we find the ability to face our difficulties with courage and integrity, and participate wholeheartedly in our lives.
---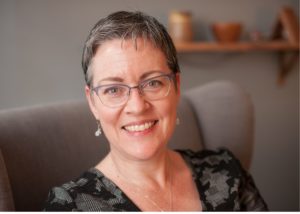 I have been a social worker since 1993, and most of my career has been on the front lines of community mental health. I have been using and teaching skills of mindfulness and meditation for many years, and practicing cognitive-behavioral therapies, with a client-centered approach. I am an instructor of Mindfulness-Based Stress Reduction (MBSR), a program with extensive and ongoing research supporting its effectiveness. My own meditation practice is in the Zen tradition.
I hope to hear from you. Email: